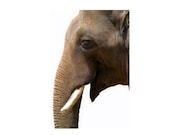 WEDNESDAY, Aug. 15, 2018 — An ancient gene that protects elephants against cancer has been pinpointed and could lead to new ways to treat cancer in people, according to research published in the Aug. 14 issue of Cell Reports.
The LIF6 gene destroys cells with damaged DNA, something that can trigger cancer, The New York Times reported.
The findings "might tell us something fundamental about cancer as a process. And if we're lucky, it might tell us something about how to treat human disease," coauthor Vincent Lynch, Ph.D., an evolutionary biologist at the University of Chicago, told The Times.
Due to their size, elephants should be at high risk for tumors, and the lack of cancer in these animals has long intrigued researchers. In recent years, scientists have started delving into the genes and cells of elephants to find new ways to fight cancer, The Times reported.
The New York Times Article
Abstract/Full Text
Posted: August 2018
Source: Read Full Article