The White House is considering an experienced leader to serve as the top US regulator of drugs and medical devices, with Robert Califf, MD, emerging as the likely pick, according to several major news organizations.
The Washington Post reported at midday Thursday that President Joe Biden may tap Califf to serve again as Food and Drug Administration (FDA) commissioner, citing three people who spoke on the condition of anonymity to detail the discussions. Politico also published a similar report at midday, citing "four people with knowledge of the situation." The New York Times likewise reported that Califf is under consideration, citing "five people familiar with the search for a candidate."
A White House spokesperson told Medscape that no official decision has been made. Califf, who served as FDA commissioner during the Obama administration (2016-2017), is now head of clinical policy and strategy for Verily and Google Health. A spokesperson for Verily said the company doesn't have "any information or commentary to share" regarding the nomination of a new FDA commissioner. A cardiologist, Califf earlier had several roles at Duke University, including serving as its vice chancellor for health data science.
The speculation about Califf's return to the FDA drew mixed reaction. The nonprofit watchdog Public Citizen on Thursday issued a statement in opposition to a potential nomination of Califf. Michael Carome, MD, director of Public Citizen's Health Research Group, said Califf is listed as a member of the board of biopharmaceutical company Cytokinetics and has received payments from many established drugmakers.
"The country desperately needs an FDA leader who will reverse the decades-long trend in which the agency's relationship with the pharmaceutical and medical-device industries has grown dangerously cozier — resulting in regulatory capture of the agency by industry," Carome said. "Califf would not be that leader."
"Biden must nominate an individual who has been dedicated to advancing public health — one who unquestionably will place the public interest ahead of the interests of FDA-regulated industries," Carome added.
But the idea of Califf returning to FDA pleased Harlan Krumholz, MD, a cardiologist at Yale School of Medicine who has been a leader in outcomes research. Krumholz tweeted that the Biden administration likely was testing the reaction to a possible Califf nomination before making it official.
"I realize that this is being floated and not officially announced…but the nomination of
(Califf) just makes so much sense," Krumholz tweeted. Califf's "expertise as a research, policymaker, clinician are unparalleled. In a time of partisanship, he should be a slam-dunk confirmation, also important."
Senate Vote
Biden so far has left the FDA top spot open amid sharply divided opinion about who should lead the agency. The FDA has been for months under the management of a long-time senior official, Janet Woodcock, MD, serving as acting commissioner.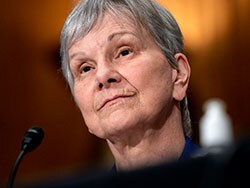 Acting FDA Commissioner Dr Janet Woodcock
Long known for her efforts to speed the pace of drug development and approvals, Woodcock has both ardent supporters and adamant critics, as reported by Medscape Medical News . Several Democratic senators, including Joe Manchin III of West Virginia and Catherine Cortez Masto of Nevada, have objected to the idea of Woodcock as a confirmed commissioner. They say the FDA did not do enough to address the national opioid crisis under Woodcock's leadership of the agency's Center for Drug Evaluation and Research (CDER).
Manchin in June made public a letter to Biden in which he ​​wrote about his concerns about "the continued tenure of Dr. Janet Woodcock as interim commissioner." In addition to Manchin's previously expressed concerns about the FDA's approach to opioids, the senators cited concerns about the agency's controversial decision under Woodcock to give an accelerated approval to aducanumab (Aduhelm).
The approval of Aduhelm "has not helped the public gain confidence in the agency," Manchin said.
"The FDA needs new leadership to be accountable for new drug approvals and to address the public health consequences of widely available prescription opioids, as well as the numerous other health concerns facing our country," Manchin said. "I hope the Biden Administration will examine the consequences of Dr. Woodcock's leadership and appoint someone more suited to lead our country out of this devastating pandemic."
Sen. Richard Blumenthal (D-Conn.) has already said he opposes Califf's nomination, the Post reported.
"I would have very grave reservations about this nomination — many of the same reservations I expressed when I voted against Dr. Califf's confirmation in 2016," Blumenthal told the newspaper.
In 2016, Manchin, along with Democratic Sen. Ed Markey of Massachusetts, opposed Califf's nomination, citing a desire for an FDA commissioner who could make a "cultural change" at the agency. In a speech on the Senate floor, Manchin said he wanted an FDA commissioner "who will shake it up from the top."
Manchin said he thought Califf was "a good man" and "a qualified man." But Manchin objected to having him as FDA commissioner because of his ties to the pharmaceutical industry. The official FDA biography for Califf describes him as having "led many landmark clinical trials" and being "one of the most frequently cited authors in biomedical science," with more than 1200 publications in peer-reviewed journals.
The Senate voted 89-4 in February 2016 to confirm Califf's nomination.
Among Califf's vocal backers at the time were Senate Minority Leader Mitch McConnell (R-Kent.) and Sen. Patrick Leahy (D-Vt). They both spoke in support of Califf before the 2016 confirmation vote. McConnell, whose home state also has been hit hard by the opioid crisis, said Califf recognized that "a cultural shift will be needed within the FDA if the potential for addiction and abuse of prescription opioids is to be taken more seriously."
Seeking More Disclosure of Trial Data
One of Califf's interests in regulation has been a drive to make sure results of trials are made public. It's a topic that also has been known to interest Biden.
In 2016, Biden, then vice president, launched the Cancer Moonshot initiative. During his involvement with that project, Biden became aware of cases where researchers were taking more than a year to report their results to the ClinicalTrials.gov database, as required by law. "If you don't report, the law says you shouldn't get any funding," Biden said at a 2016 cancer research conference, as reported by T he New York Times.
Califf was among the Obama administration officials who publicly pushed for greater compliance with the federal mandate on disclosing trial results. HHS in 2016 published a long-awaited rule that expands the legal requirements for submitting registration and results information for clinical trials.
"When people participate in clinical trials, they are volunteering to create generalizable knowledge to help others in the future and we want their participation honored by ensuring that the existence of trials and their results are available to all patients and their healthcare providers, as well as researchers," Califf said in a 2016 statement about the release of this rule.
"The FDA will help ensure compliance with these new requirements so that patients and providers can have confidence in, and access to, significantly more clinical trial information, and researchers can improve clinical trial focus and design," he added.
But the FDA and its partner in these efforts, the National Institutes of Health (NIH), have been reluctant to use this authority, wrote Califf and Deborah A. Zarin, MD, a leader in efforts to disclose trial results, in an invited commentary in JAMA Internal Medicine this past May.
Their article accompanied the publication of a study from Oxford researchers that found a significant lack of compliance with this federal mandate. Of the 8863 trials due to report results during the period of this study, 3499 (39.5%) did so within the 1-year deadline, and only 6099 (68.8%) reported at any time, wrote Nicholas J. DeVito, MPH, and Ben Goldacre, MBBS, of the University of Oxford in their paper.
The FDA in April made a highly publicized threat of action against a small biotech firm as its first public enforcement in connection with the disclosure rules, as Medscape previously reported.
In their commentary, Califf and Zarin said it was "encouraging that the FDA recently issued its first formal notice of noncompliance." Still, they urged greater action from FDA and NIH to compel researchers and companies to post required data on ClinicalTrials.gov.
"In short, researchers, academic medical centers, industry, and all stakeholders have roles to play in improving the conduct and reporting of clinical trials," Califf and Zarin wrote. "An up-to-date and accurate trial registry is needed to help researchers avoid unnecessary redundancy and focus on high-quality trials for important, unanswered questions."
Kerry Dooley Young is a freelance journalist based in Washington, D.C. She is the core topic leader on patient safety issues for the Association of Health Care Journalists. Young earlier covered health policy and the federal budget for Congressional Quarterly/CQ Roll Call and the pharmaceutical industry and the Food and Drug Administration for Bloomberg. Follow her on Twitter at @kdooleyyoung.
For more news, follow Medscape on Facebook, Twitter, Instagram, YouTube, and LinkedIn
Source: Read Full Article