Brent called his dad, Jeb Teichman, MD, in November 2019 saying he had felt sick for the past 3 days. The otherwise healthy 29-year-old had a cough, sore throat, and was running a fever.
"It was what the CDC would call classic influenza-like illness," Jeb Teichman said. "It was too late to start antivirals, so I gave him advice on symptomatic treatment. We texted the next day, and I was glad to hear that his fever was trending down and that he was feeling a little bit better."
Two days later, his son called again.
"He said he was having trouble breathing, and over the phone I could hear him hyperventilating." The retired pediatrician and healthcare executive told his son to seek medical care.
"Then I got the call that no parent wants to get."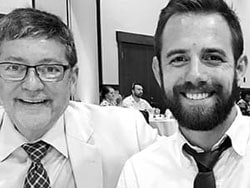 Jeb Teichman with his son Brent.
Brent's cousin Jake called saying he couldn't wake Brent up.
"I called Jake back a few minutes later and asked him to hold up the phone," Teichman said. "I listened to EMS working on my son, calling for round after round of many medications. He was in arrest and they couldn't revive him."
"To this day when I close my eyes at night, I still hear the beeping of those monitors."
Brent had no health conditions to put him at higher risk for complications of the flu. "Brent was a wonderful son, brother, uncle, and friend. He had a passion for everything he did, and that included his chosen calling of the culinary arts but also included University of Kentucky sports," Teichman says.
Brent planned to get a flu vaccine but had not done it yet. "In his obituary, we requested that in lieu of flowers or donations, people go get their flu shot," his father said.
"I'm here today to put a face on influenza," Teichman said at a news briefing Tuesday on preventing the flu and pneumococcal disease, sponsored by the National Foundation for Infectious Diseases (NFID).
New Survey Numbers 'Alarming'
The NFID commissioned a national survey of more than 1000 US adults to better understand their knowledge and attitudes about the flu, pneumococcal disease, vaccines, and the impact of COVID-19.
"We were alarmed to learn that only 49% of US adults plan to get their flu vaccine this season," said Patricia A. "Patsy" Stinchfield, a registered nurse, NFID president, and moderator of the news briefing. "That is not good enough."
In addition, 22% of people at higher risk for flu-related complications do not plan to get vaccinated this season. "That's a dangerous risk to take," Stinchfield said.
An encouraging finding, she said, is that 69% of adults surveyed recognize that an annual flu vaccination is the best way to prevent flu-related hospitalizations and death.
"So, most people know what to do. We just need to do it," she said.
The top reason for not getting a flu shot this year, mentioned by 41% of people surveyed, is they do not think vaccines work very well. Another 39% are concerned about vaccine side effects, and 28% skip the vaccine because they "never get the flu."
The experts on the panel emphasized the recommendation that all Americans 6 months or older get the flu vaccine, preferably by the end of October. Vaccination is especially important for those at higher risk of complications from the flu, including children under 5, pregnant women, people with one or more health conditions, the immunocompromised, and Americans 65 years and older.
Stinchfield acknowledges that the effectiveness of the flu vaccine varies season to season, but even if the vaccine does not completely match the circulating viruses, it can help prevent serious outcomes like hospitalization and death. One of the serious potential complications is pneumonia or "pneumococcal disease."
"Our survey shows that only 29% of those at risk have been advised to receive a pneumococcal vaccine," Stinchfield says.
"The good news is that among those who were advised to get the vaccine, 74% did receive their pneumococcal vaccine," she said. "This underscores a key point to you, my fellow clinicians: As health professionals, our recommendations matter."
Higher Doses for 65+ Americans
The CDC updated recommendations this flu season for adults 65 and older to receive one of three preferentially recommended flu vaccines, said CDC Director Rochelle Walensky, MD. The CDC is recommending higher-dose, stronger vaccines for older Americans "based on a review of the available studies, which suggested that in this age group, these vaccines are potentially more effective than standard-dose…vaccines."
During most seasons, people 65 and older bear the greatest burden of severe flu disease, accounting for most flu-related hospitalizations and deaths.
"They are the largest vulnerable segment of our society," Walensky said.
What Will This Flu Season Be Like?
Health officials in the flu vaccine business also tend to be in the flu season prediction business. That includes Walensky.
"While we will never exactly know what each flu season will hold, we do know that every year, the best way you can protect yourself and those around you is to get your annual flu vaccine," she said while taking part remotely in the briefing.
How severe will the flu season be this year? William Schaffner, MD, said he gets that question a lot. "Don't think about that. Just focus on the fact that flu will be with us each year."
"We were a little bit spoiled. We've had two mild influenza seasons," said Schaffner, medical director of NFID and a professor of infectious diseases and preventive medicine at Vanderbilt University. "I think with all the interest in COVID, people have rather forgotten about influenza. I've had to remind them that this is yet another serious winter respiratory virus."
"As I like to say, flu is fickle. It's difficult to predict how serious this next outbreak of influenza this season is going to be. We could look at what happened in the Southern Hemisphere," he said.
For example, Australia had the worst influenza season in the past 5 years, Schaffner said. "If you want a hint of what might happen here and you want yet another reason to be vaccinated, there it is."
What we do know, Walensky said, is that the timing and severity of the past two flu seasons in the US have been different than typical flu seasons. "And this is likely due to the COVID mitigation measures and other changes in circulating respiratory viruses." Also, although last flu season was "relatively mild," there was more flu activity than in the prior, 2020-21 season.
Also, Walensky said, last season's flu cases began to increase in November and remained elevated until mid-June, "making it the latest season on record."
The official cause of Brent Teichman's death was multilobar pneumonia, cause undetermined. "But after 30-plus years as a pediatrician…, I know influenza when I see it," his dad said.
"There's a hole in our hearts that will never heal. Loss of a child is devastating," he said. The flu "can take the life of a healthy young person, as it did to my son."
"And for all those listening to my story who are vaccine hesitant, do it for those who love you. So that they won't walk the path that we and many other families in this country have walked."
To prove their point, Teichman and Stinchfield raised their sleeves Tuesday and received flu shots during the news briefing.
"This one is for Brent," Teichman said.
For more news, follow Medscape on Facebook, Twitter, Instagram, and YouTube.
Source: Read Full Article