A dyadic telehealth intervention to help people with dementia and their caregivers can achieve outcomes similar to those of traditional, in-person approaches. The program combines information, education, and skills training to help participants overcome specific challenges.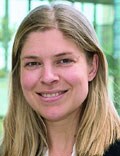 Dr Kate Laver
"It focuses on individualized problem solving and is tailored to the needs of the person. The focus is not just on educating caregivers, but working on strategies to maintain independence in the person with dementia and support them to remain active and engaged," said Kate Laver, PhD, who presented the study at the annual meeting of the Alzheimer's Association International Conference. Laver is an associate professor in the College of Medicine and Public Health at Flinders University in Adelaide, South Australia.
The program is called Care of Persons with Dementia in Their Environments (COPE), and has previously been demonstrated to improve outcomes when conducted through in-person home visits. Over a maximum of ten sessions in 4 months, COPE employs occupational therapists and individuals with nursing skills to identify environmental stressors that can be modified to reduce sensory, physical, and cognitive demands. It also looks for comorbidities in the person with dementia that could be contributing to poor functioning. The goal of COPE is to encourage the person with dementia to reengage in daily activities, and to reduce caregiver burden as a result.
In a 2020 study, Laver and colleagues showed that COPE is noninferior when delivered by telehealth compared with in-person delivery. They randomized 63 caregiver-patient dyads to telehealth or home visit delivery of the COPE program. Sixty percent of the persons with dementia were male, and the mean caregiver time was 32 months.
Similar improvements in outcomes were seen in both groups, with no statistically significant differences for the primary outcome of change in Caregiver Mastery Index score at 4 months (mean difference, 0.09; 95% confidence interval, –1.26 to 1.45). Similar changes were also seen in the Perceived Change Scale, which is a 13-item caregiver questionnaire that covers day-to-day care challenges, including feeling overwhelmed or upset, sleeping patterns, and availability of personal time.
Not surprisingly, telehealth implementation led to reduced mean travel time (77.2 minutes vs 255.9 minutes; P < .0001). The face-to-face time was shorter in the telehealth group (308 vs 337 minutes), though the difference was not statistically significant. Laver noted that the consent rate was high at 75%, but there were some missed sessions.
Lessons Learned
During the presentation, Laver emphasized some lessons learned from conversion to a telehealth model. These included providing a tablet and stand on loan, a user guide with pictures, and an initial on-site training session. The first two sessions were conducted on site to do an in-person demonstration and to assess the participants and the home environment.
She noted that it was important to have an IT support person on call to help participants use the provided tablet if needed, though this was rarely used.
"Although few people (at the time) had their own devices, they were able to quickly master videoconferencing. We felt that it was important to ensure that the first couple of consultations were in person — this enabled the therapist to develop rapport, practice use of videoconferencing, and get a good idea of the person's environment and relationship with the person with dementia," said Laver.
She noted that telehealth can be more efficient, and even preferred, during times like the COVID-19 pandemic, as well as in rural settings. But home visits will always be needed. "They are important for developing rapport and enabling a comprehensive assessment of the person with dementia, relationships, and environment. They are also preferred by some caregivers," said Laver.
The demonstration of equivalence to in-person delivery was welcome, said Ingo Kilimann, MD, who co-moderated the session where Laver presented. "We have to bring help to the families where they are, and not just tell them where they can get the help, because some people are just not able to actually come to some specialists' centers. So it's very important information that it does work," said Kilimann, who is a dementia neurologist and head of the memory clinic at The German Center for Neurodegenerative Diseases in Bonn.
He added that mixing of on-site and remote sessions is a good model. "I think that is the way to be most effective — to have someone in person at the person with dementia's house, and then have online support for the rest of the time, and then it can be as successful as a total in-person intervention," said Kilimann.
Laver has disclosed no relevant financial relationships.
This article originally appeared on MDedge.com, part of the Medscape Professional Network.
Source: Read Full Article