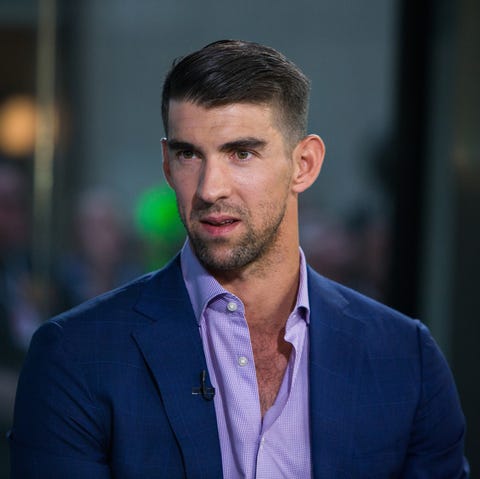 Michael Phelps is known for being the most decorated Olympian of all time, but the 33-year-old retired swimmer wants to be recognized for something else, too: his willingness to talk about his battle with depression.
This week, Phelps spoke out about dealing with depression at the Talkspace Conference: Mental Health & Young Americans. Phelps is a shareholder and advisory board member for Talkspace, the popular online counseling service.
"I have a chance to save a life, and that's way bigger than ever winning any gold medals," he said to the audience in New York City. Although six million American men experience depression daily, so few guys rarely speak about their experiences. But Phelps wants everyone to know, "It's OK to not be OK."
In October 2014, Phelps sought help after spending five days locked inside his room contemplating suicide. "I knew something had to happen fast," Phelps said. "There has to be another way."
He admitted to initially hating therapy, but says it ended up saving his life. Phelps credits counseling with giving him insight into his feelings and tools to manage his depression.
"I struggle more than people know."
In an interview with MensHealth.com after his speech, Phelps explained that his mental health issues are ongoing.
"I'm constantly learning, but I'm always constantly struggling," he said. "I struggle more than people know. I just need to be prepared and handle it."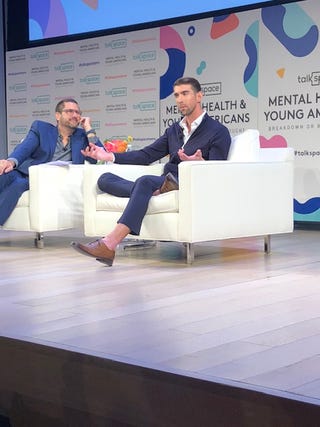 Michael Phelps at the Talkspace: Mental Health & Young Americans conference.

Melissa Matthews
As for what it feels like to be depressed, "There's not a positive thing that goes through my head," Phelps explained. "I'm basically my own punching bag."
Fall is especially difficult for the former swimmer, who pointed out he's had two DUIs during this period. "October and November are the two worst months for me every single year," he said. "I just go dark…I'm moody. Any one comment can set me off. It's scary."
He admitted to feeling on-edge in that very moment, revealing that two days prior, his depression made him feel like he was "about to blow."
So how does he cope? Phelps says he uses several strategies.
The father of two begins each day with a 5 a.m. workout before his kids wake up. Otherwise,"I'm an absolute nightmare," he said. He also finds comfort by journaling in a quiet space, where he can sit and reflect on his emotions. This helps relieve the burden of carrying those negative thoughts inside, he said.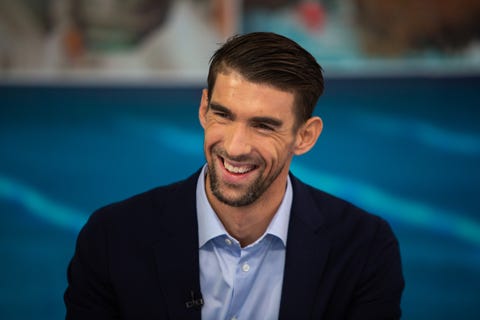 Getty ImagesNBC
And here's a tip that every guy can put to good use: Whenever Phelps walks through a doorway, he recites a personal affirmation. "I deserve love" is one; "I can handle love" is another.
Phelps believes professional treatment is important for anyone experiencing depression, but says positive affirmations are a good first step to improving your thoughts.
"You believe the things you tell yourself," he said. "We deserve to be happy."
For general information on mental health and to locate treatment services in your area, call the Substance Abuse and Mental Health Services Administration Treatment Referral Helpline at 1-800-662-HELP (4357).
Source: Read Full Article