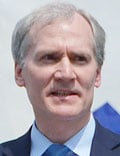 Dr Marc Tessier-Lavigne
Stanford University has launched a formal investigation into its own president, neuroscientist Marc Tessier-Lavigne, PhD, for alleged research misconduct pertaining to five scientific articles on which he was lead or coauthor. Stanford's Board of Trustees is leading the investigation.
The university's student newspaper, the Stanford Daily, broke the news of the investigation on November 30 — one day after it had reported on the alleged misconduct.
"The university will assess the allegations presented in the media, consistent with its normal rigorous approach by which allegations of research misconduct are reviewed and investigated," Dee Mostofi, spokesperson for Stanford University, told Medscape Medical News.
"In the case of the papers in question that list President Tessier-Lavigne as an author, the process will be overseen by the Board of Trustees," she added.
Through Mostofi, Tessier-Lavigne stated that "scientific integrity is of the utmost importance both to the university and to me personally. I support this process and will fully cooperate with it, and I appreciate the oversight by the Board of Trustees."
"Serious Issues"
Allegations regarding scientific discrepancies published in papers Tessier-Lavigne authored or coauthored first came to light 7 years ago on PubPeer, a site that allows scientists to identify possible problems or anomalies in scientific publications.
Journalists at the Stanford Daily worked with biologist and world-renowned scientific misconduct investigator Elisabeth Bik, PhD.
After investigating five of Tessier-Lavigne's papers, Bik acknowledged that they contained "serious issues."
The student newspaper published about the misconduct allegations in a November 29 article, and noted that a study was under review after being published in 2008 in The European Molecular Biology Organization (EMBO) Journal.
The University told the Stanford Daily in a statement the day before that article published that Tessier-Lavigne "was not involved in any way in the generation or presentation of the panels that have been queried" in two of the papers, which included the one in The EMBO Journal that is under review.
Of the other two papers, the University wrote that the issues "do not affect the data, results, or interpretation of the papers."
Intentionally Altered?
Bik told Medscape Medical News that, initially, concerns about a 1999 paper in Cell that was coauthored by Tessier-Lavigne were raised on PubPeer in 2015 by an anonymous person under the screen name Peer 1.
"I am not sure if that person reported the problems to the journal, but their concerns involved possible undisclosed splicing, i.e. vertical cuts between lanes. That was not considered to be a problem back in 1999, nor perhaps even in 2015," she noted.
"But 2 days ago, I looked at that paper in more detail and I saw an additional problem in Figure 3A that is much more serious," she said.
Bik sent Medscape Medical News a copy of the PubPeer thread in which she presented her evidence. She noted that several blots in Figure 3A of the paper "appear to show repetitive patterns," which she marked in green, cyan, and blue.
Furthermore, she said the images look to have been intentionally altered and reported her discovery to the editors of Cell on the evening of December 1.
The papers under investigation include a 1999 paper in Cell, two 2001 papers in Science, a 2003 paper in Nature, and a 2008 paper in The EMBO Journal. Four were neuroscience papers, while the fifth was about the morphogenesis of endothelial cells.
Tessier-Lavigne hails from Trenton in Ontario, Canada, and received his PhD in physiology from University College, London. In 2003, he became CEO of Genentech, Inc, a biotech company in south San Francisco, California, before becoming president of The Rockefeller University in New York City in 2011. He assumed his role as president of Stanford in 2016.
For more Medscape Neurology news, join us on Twitter and Facebook.
Source: Read Full Article