Fox News Flash top headlines for December 31
Fox News Flash top headlines are here. Check out what's clicking on Foxnews.com.
World Health Organization (WHO) Director-General Tedros Adhanom Ghebreyesus said Wednesday he is worried about the omicron and delta variants of the coronavirus creating a "tsunami of cases."
"I'm highly concerned that omicron, being more transmissible [and] circulating at the same time as delta, is leading to a tsunami of cases," he said at an online news conference.
Now, as the U.S. sets records for infections, a study out of South Africa says the country may have already passed the peak of its omicron-fueled surge in COVID-19 cases.
The authors of the research, published in the International Journal of Infectious Diseases, reported that there had been a "decreased severity of disease" in an omicron-driven fourth wave in the city of Tshwane, fewer deaths and ICU admissions and shorter stays in hospitals.
"The wave increased at a faster rate than previous waves, completely displacing the delta variant within weeks and began its decline in both cases and hospital admissions in the fifth week following its commencement," the authors wrote. They added that there were "clear signs that case and admission rates in South Africa may decline further over the next few weeks."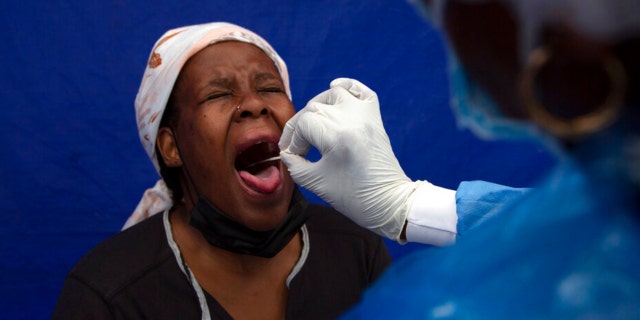 A throat swab is taken from a patient to test for COVID-19 at a facility in Soweto, South Africa, Dec. 2, 2021.  South Africa's noticeable drop in new COVID-19 cases in recent days may signal that the country's dramatic omicron-driven wave has passed its peak, medical experts say.        
(AP Photo/Denis Farrell; File)
The study examined the rate at which cases progressed, comparing hospital records from a Tshwane hospital system to that of previous surges.
"The omicron outbreak has spread and declined in the City of Tshwane with unprecedented speed, peaking within four weeks of its commencement," the authors wrote. "Hospital admissions increased rapidly and began to decline within a period of 33 days."
The wave's peak occurred during the week of Dec. 5, with the highest occupancy of COVID-19 beds around half of what had been occupied at the peak of the delta wave in July.
"The changing clinical presentation of SARS-CoV-2 infection is likely due to high levels of prior infection and vaccination coverage," the authors said, noting that 66.7% of Tshwane residents have some form of immunity.
"The speed with which the [omicron-driven] fourth wave rose, peaked and then declined has been staggering. Peak in four weeks and precipitous decline in another two. This omicron wave is over in the City of Tshwane. It was a flash flood more than a wave," author Fareed Abdullah, director of the South African Medical Research Council's AIDS and tuberculosis research, tweeted Thursday.
South Africa lifted a midnight to 4 a.m. curfew Thursday, and a statement from a special cabinet meeting said that "all indicators suggest the country may have passed the peak of the fourth wave at a national level."
The Associated Press contributed to this report.
Source: Read Full Article