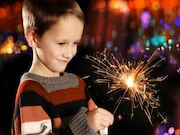 WEDNESDAY, July 4, 2018 — Backyard fireworks and sparklers are a Fourth of July staple.
They can be fun, but also dangerous, health experts warn. Knowing how to set them off safely can prevent a celebration from becoming a tragedy.
And the National Safety Council advises everyone to steer clear from all consumer fireworks, and only enjoy fireworks at a public display conducted by professionals.
In 2014, for example, some 10,500 Americans showed up at emergency departments with injuries caused by fireworks, according to the National Fire Protection Association.
The most common injuries are burns to the hands and arms from mishandling fireworks, said Dr. Cassiopeia Roychowdhury. She is a family medicine physician at Penn State Health Milton S. Hershey Medical Center.
"It's important to take practical safety measures, such as following directions on the fireworks themselves and standing far enough away when you are setting them off," she said in a Penn news release.
Not only big fireworks cause injuries — nearly one-third of injuries are caused by sparklers, which are often given to children, Roychowdhury said. "Be mindful of who is going to be around the fireworks," she added.
Roychowdhury said to always protect your hands and face when setting off fireworks and to use them only with experienced people. Also, check your surroundings to ensure there aren't groups of people nearby who could be endangered.
Weddings, parties and holiday celebrations are just some of the many occasions that can feature fireworks, and they're often used by people who are more likely to be drinking alcohol, Roychowdhury said.
"Make sure anyone using fireworks is sober and has their wits about them," she advised. "You want to be smart about it."
Superficial burns with no break in the skin can be treated with aloe and medicine to relieve pain, she suggested.
"The burn itself is a problem, but it can very easily become infected, so it should be monitored closely," Roychowdhury said.
She recommends keeping the wound clean using sterile water and paying attention to increased warmth or redness at the burn site.
If you get a burn that bleeds, has drainage or breaks the skin, which could signal an infection, or if the burn is to the face, abdomen or genitals, then you should go to a hospital emergency room, Roychowdhury said.
More information
To learn more about firework safety, visit the National Safety Council.
Posted: July 2018
Source: Read Full Article