I was standing in the immigration queue at JFK airport when the news of Kate Spade's suicide flashed on the TV screens in the hall there. It was all the more shocking because, even if you don't believe in that ultimately empty trope about having it all, Spade, one of the fashion industry's more discreet, more down-to-earth individuals, really did seem to have a lot: a husband (and business partner) she'd been married to for 24 years, a longed-for child, one business empire already behind her – she cashed out approximately $94 million from Kate Spade – and a nascent label, Frances Valentine, named for her daughter, which she launched in 2015.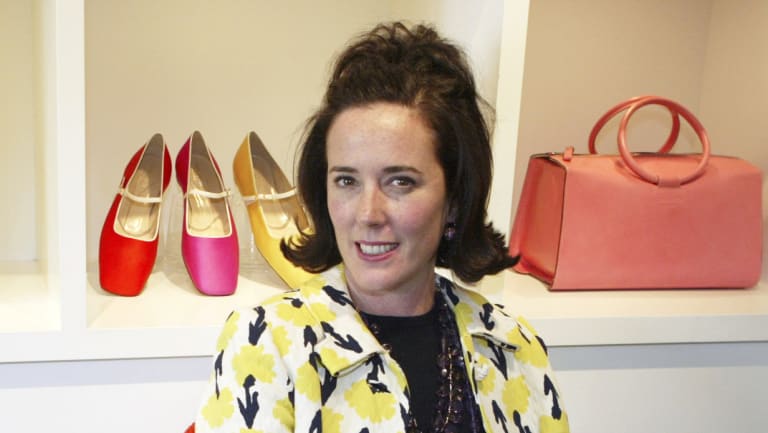 Kate Spade during an interview in New York in 2004.
Flashbacks to Lee Alexander McQueen's suicide in 2010 and L'Wren Scott's suicide in 2014 are inevitable. What about John Galliano's crazy apparently alcohol-fuelled and self-destructive anti-Semitic rant in 2011?
Or Claude Montana's tormented and tormenting relationship with his wife and muse Wallis Franken Montana, which ended when she killed herself in 1996 – a scandal from which his reputation never recovered. And who can forget the tragic early death of fashion stylist Isabella Blow in 2007, who had suffered from depression for years and become concerned about her career waning?
Journalist Michael Gross famously described the fashion industry as a place filled with beautiful people and ugly deeds. Yes, the pressures of fashion are immense and public – but that's also true if you're a surgeon, a politician or a single parent holding down three jobs. It's also true that the relentless fixation on the surface means there's an inherent unwillingness to grapple with deeper truths
The disconnect between being a polished style plate and the messy reality of being human add to the weight, sometimes to an unbearable degree. Maintaining a glaze of perfection at all times becomes as much a part of the job as anything else.
Let's not forget the self-reinvention that is one of fashion's immutable rules for career advancement. Whether it's enhancing one's early childhood to make it seem more aristocratic (a favourite among older-school designers) or emphasising gritty episodes to flesh out a street-cred image, designers especially often feel they need a dramatic back-story to attract interest and many end up feeling trapped by the contradictions.
Spade's business and persona were predicated on a sunny, upbeat quintessentially American interpretation of chic. As the tributes on social media and the floral offerings laid outside the 200-plus Kate Spade stores across the world suggest, her playful but ultimately pragmatic aesthetic touched millions of women. Her death, however, is a reminder that outward glamour is, by definition, a chimera. We should all, in an age of endless self-branding, be wary of the price of illusion.
Telegraph, London
Source: Read Full Article