The interleukin-12/23 inhibitor ustekinumab (Stelara) is nearly as effective as a tumor necrosis factor (TNF) inhibitor for psoriatic arthritis, and patients are slightly more likely to persist with it and have a lower rate of adverse events, a 3-year, real-world study has found.
In a paper published online in Annals of the Rheumatic Diseases, researchers presented the outcomes of the prospective, observational PsABio study of 895 adults with psoriatic arthritis, who were starting treatment for the first time with either ustekinumab or a TNF inhibitor as first-, second-, or third-line treatment.
At 3 years after starting therapy, 49.9% of the 439 patients prescribed ustekinumab were still on that treatment, compared with 47.8% of the 456 patients prescribed a TNF inhibitor. However, there were differences in persistence based on clinical presentation. Patients who had severe skin involvement who were treated with ustekinumab stayed on the drug for longer than did those with severe skin involvement treated with a TNF inhibitor, and they were more likely to persist with their treatment for the 3 years of the study. However, there were numerically more patients with mild or moderate skin involvement taking a TNF inhibitor who stayed persistent with the treatment, compared with those taking ustekinumab, although the differences were not statistically significant.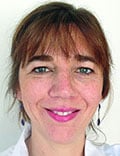 Dr Laure Gossec
"In the ustekinumab group, skin response was an important reason for prolonged persistence, with more patients in the ustekinumab group stopping/switching due to lack of effectiveness," wrote Laure Gossec, MD, of Pitié-Salpêtrière Hospital and Sorbonne University, Paris, and coauthors. "This is expected, as psoriasis can significantly affect morbidity, and successfully treating skin symptoms improves patients' health-related quality of life."
The authors also noted that patients on ustekinumab monotherapy had the highest rate of persistence and stayed on treatment longer than did those on TNF inhibitor monotherapy, or on dual therapy with either drug combined with methotrexate. They suggested this could be because patients on TNF inhibitor monotherapy may be more likely to develop antidrug antibodies than those on ustekinumab monotherapy. It could also be because adding methotrexate may increase the risk of adverse events, but without necessarily increasing the effectiveness of ustekinumab on skin involvement.
In terms of efficacy, researchers saw that 69.8% of patients in the TNF inhibitor group had achieved low disease activity and 45% had achieved remission, compared with 58.6% of patients in the ustekinumab group who achieved low disease activity and 31.4% who achieved remission.
A similar pattern was seen for minimal disease activity and very low disease activity, which were achieved by 54.2% and 26.9% respectively of those in the TNF inhibitor group, and 41.4% and 19.2% respectively of those in the ustekinumab group.
Because the study was observational and real-world, the choice of therapy was made by the treating rheumatologist rather than patients being randomized. There were some baseline differences between the ustekinumab and TNF inhibitor groups; for example, patients in ustekinumab group were generally older and with more comorbidities, and were more likely to have previous been treated with biologics. However, they were also less likely to be concurrently treated with methotrexate and NSAIDs, and more likely to have severe skin involvement.
The study saw a higher rate of adverse events in the TNF inhibitor group, compared with the ustekinumab, with 39.7% of patients treated with TNF inhibitor and 34.6% of those treated with ustekinumab reporting at least one adverse event. The rates of serious adverse events and malignancies were similar for the two groups, but overall the ustekinumab group had a lower rate of clinically-relevant adverse events including infections.
The study was sponsored by Janssen, which markets ustekinumab. Ten authors declared personal fees, grants, and nonfinancial support from the pharmaceutical sector, including Janssen. One author was an employee of Janssen, one an employee of Johnson & Johnson, and two are editorial board members of Annals of the Rheumatic Diseases.
This article originally appeared on MDedge.com, part of the Medscape Professional Network.
Source: Read Full Article